Design Studio
Located on the 4th floor of Slover Library, the Design Studio serves as a dedicated space for creative projects, including professional photography, illustration, comics, animation, and graphic design. Patrons have free access to the studio, which is equipped with: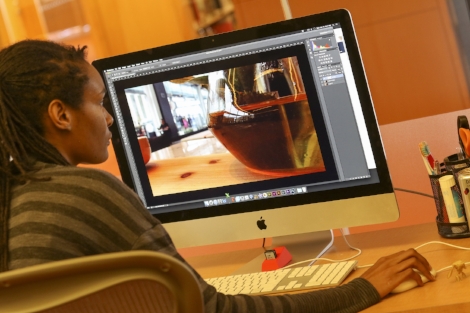 • Full suite of Adobe Creative Cloud applications
• Wacom Cintiq and Intuos Pro tablets
• Epson Workforce DS-5000 scanner, up to
11" x 17"
Large-Format Printing
We offer large-format printing on our 24" Epson Stylus Pro 7900 Printer. Photographers, artists, and designers can create professional prints with our wide selection of fine art papers.
Printing rates range from $4 - $10 per square foot, depending on paper type. Images for print must be submitted as TIFFs in a resolution of 340 dpi, in Adobe RGB (1998) color space. Contact the Design Studio to schedule a printing consultation, or for more information on media and pricing.